If you want to reduce misclicks during combats, try using [Target players only] in Settings.
What is [Target players only]?

A shortcut that reduces the chance of misclicks and unintended actions when using targeting skills or attack commands, and helps you click on enemies clearly.
Settings > Input > Actions > Target players only

Game > Advanced Settings > Toggle "Target Players only" option
When you first install the game, the hotkey is set to F4.
When the toggle is enabled, pressing the hotkey will activate the feature, and pressing it again will deactivate it. If you disable the toggle, the feature will only be activated while holding down the hotkey.
You'll know when [Target players only] is enabled, because the mouse icon will be yellow.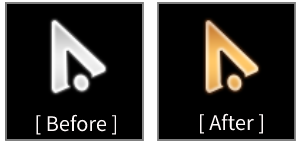 Be sure to use this cool feature to reduce misclicks!